With just 78 days remaining until the start of the 2018 FIFA World Cup in Russia, we are anticipating a notable surge in activity across the gambling sector.
The World Cup is by some margin the most significant sports gambling event in the world; spectators across the globe will be following the games intently, and regulators will be constantly monitoring all aspects of the competition. Yet despite this attention, is there still a likelihood of matches and bets being compromised?
In short, the answer is yes. This year's World Cup has already been targeted with one instance of attempted match-fixing, where players from El Salvador were approached with bribes ahead of their World Cup qualifier match with Canada.
Furthermore, Joseph Lamptey – a referee from Ghana – recently received a lifetime ban from refereeing after allegations of match-fixing during South Africa's World Cup qualifier with Senegal. Further investigations revealed numerous instances of suspicious results during Lamptey's career.
Match-fixing tends to be seen much more often in lower leagues which receive minimal media coverage, and usually players who are paid smaller salaries are targeted, since they may be more likely to be influenced by bribes.
However, there have already been warnings that the global coverage of the 2018 World Cup will not make the event immune from the threat of match-fixing. Not all players participating in the competition will be highly paid, and bribery remains a concern.
The global spread of the Internet, coupled with the rapid advancement of technology in recent years, has seen colossal development of the gambling industry. Users can now place all manner of bets, and can do so in real-time. While this poses clear benefits to the sector, there are also added risks.
The multitude of different bets available at any given stage has given rise to 'spot-fixing', where players or referees need only make a single action at an agreed moment during a game. This could take the form of a yellow card, or awarding a penalty, for example. Spot-fixing is considerably harder to detect as it may have no consequence on the end result of a match.
While regulators are already closely monitoring games for suspicious activity as well as for any unusual betting trends, this is a growth area that will require ever greater vigilance from operators.
The actors behind match-fixing and spot-fixing tend to operate within closed syndicates which minimise their risks of being found out. Organisation of these syndicates is difficult to track, as it is most likely carried out over closed channels such as WhatsApp, Telegram, or in person.
This said, the Darknet is another area where match-fixers have been known to promote their offers: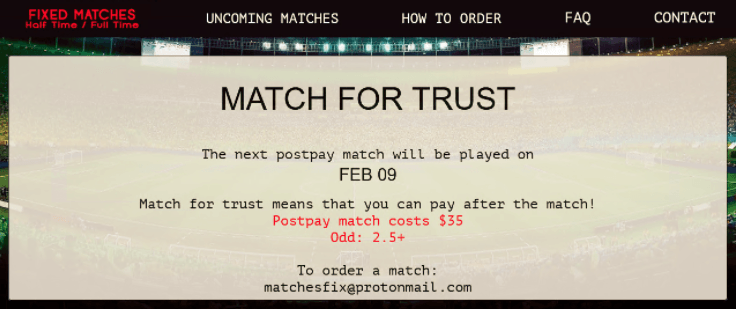 While many of these are known to be scams, some of the listings will likely be genuine.
Hacked accounts are another common product for sale on the Darknet, and they can be exploited to leverage funds. While these sales can affect all industries, there could be a heightened demand for hacked betting accounts in the run-up to the 2018 World Cup.
Ongoing vigilance will be required as the competition approaches, and during the event itself. We will be continuing to monitor Darknet markets and forums for any exposure to the gambling sector, specifically with any mention of the World Cup.